I wasn't feeling great lately, to be honest. After the up – working with relative confidence on my panels – came the down. Besides my smaller panels, the main focus of my expo are on three larger works. And they freaked me out.
At some point you realise; if I don't start now, it's gonna be too late. I have a ridiculous talent to procrastinate, but even I had to admit that this was cutting it all very close. Some say art cannot be forced, but I can assure you that it can be put to sleep if you try hard enough. 
I will give myself some credit for managing to get started though. Preparing these panels took a good two weeks, and after that I focussed on getting some reference photos shot, and some sketches done.
Time to paint.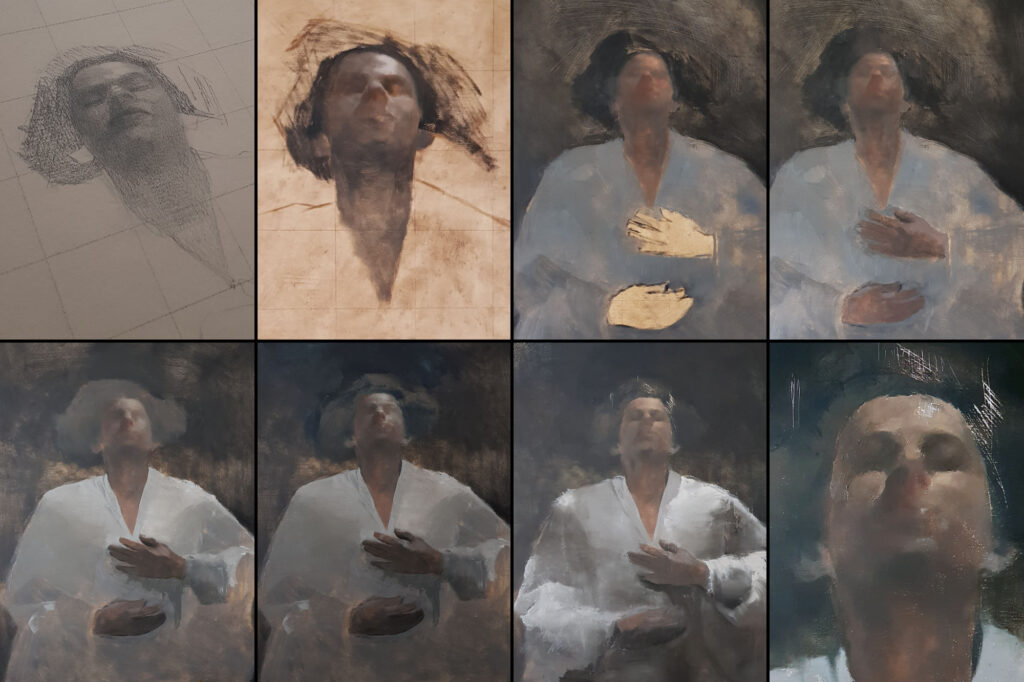 I will never get used to this gut-wrenching feeling of self-loathing when I start a new work. I wish with all my hearth that there was something positive I could say about it, but I can't. I also can't stop painting, so it's a packaged deal, it just comes with it.
But sometimes I just want to vent about how much I despise it, this endless managing of intrusive, negative thoughts and doubts.
Go away, brain. Be quiet.
My Studio Hours #4 video is part of that stress management protocol. I looked at my big-ass panels, lines all neat, values all organised, and I thought, "no wtf, where's the drama?!". But then fear hits, because what if you mess it up and folks, it's a REALLY big panel, so yeah. I figured I would try some stuff out on a smaller one, coordinated little bee that I am. So here's a recording of that, or at least the first part. I'll post the second part tomorrow, promise. 
As always, thank you for your ongoing support, kind words, encouragement and more. It keeps me sane. <3