A self-portrait in limited colours
In this workshop you'll receive...
Sabra's class was definitely one of my favorite. Her unique style and approach inspire you to try new directions in a fearless way. Every step of the demo was very clearly explained and helpful in achieving a beautiful result.
There is something special about Sabra. Her artistry is rich and deep and haunting. Her teaching is centered and thorough and her presentation quite calming. There is simply no one quite like her out there. It is a pleasure to study with her.
Love Sabra's classes. The right amount of information so that you learn and yet have room for your own style. She is so thoughtful and generous!
Sabra has such style, in her art and her demeanor! She offers thoughtful instruction, with details and depth. Highly recommend!
Sabra walks you through every step of the painting from colour mixing to end. Very informative. Recommend her class highly.
Sabra's art is masterful, her teaching style smooth. She goes at an easy pace, explains thoroughly, while expanding your confidence and skills. She creates magic! Thank you, Sabra!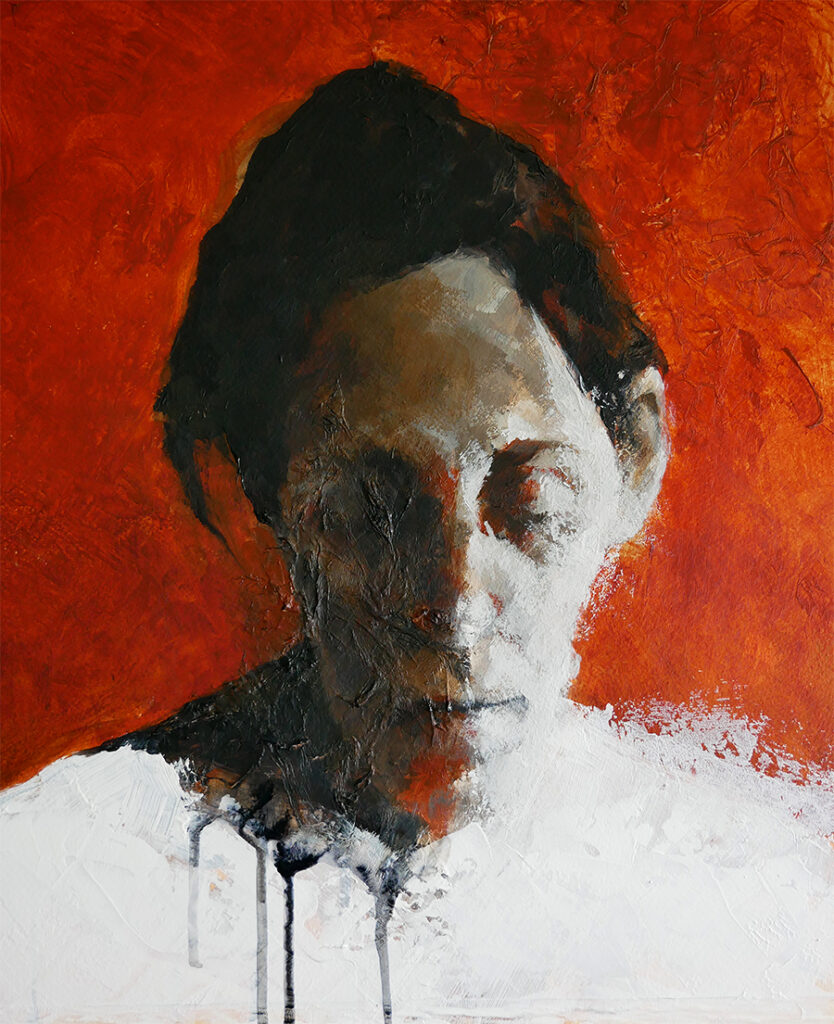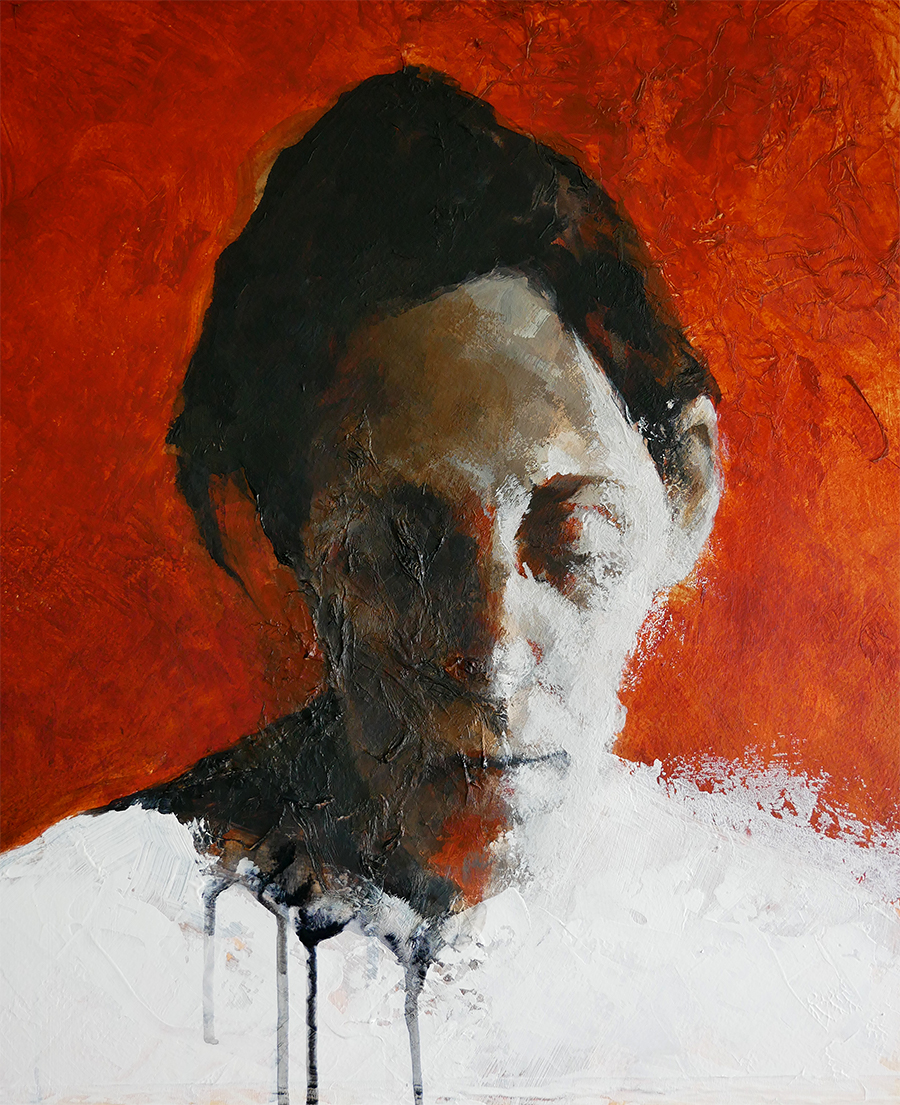 Self-portraits are a wonderful way to connect to yourself through art. During this process you will look at yourself differently than you would normally. Think about it; very often when we look at our own face, we do so for a specific reason. Did I put on my cream? What's that blemish there? Why in breakfast's name do I have peanut butter on my face?!
I've looked at my face countless times, but never once just to observe. And that's a shame really. When I was a kid I would spend time in front of the mirror, making faces, pushing my skin this way or that way. But I guess somewhere along the line of growing up, you learn that that's not ok anymore. Looking at yourself for no practical reason might be considered arrogant or self-absorbed. 
Whatever the reason might be, art allows us a way back in. A way to see things in a different light. I'd love to share some of that process with you in this workshop as we paint a self-portrait.
And if that's not your thing yet, that's fine; just choose a different photo and enjoy the texture-making in this project. If you'd like to learn more about what this workshop is about, read on!
Much love,
Sabra
What will I take from this class?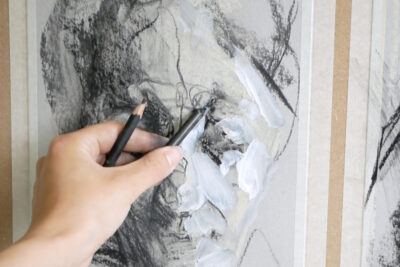 BONUS: Exploring references
Not sure what reference to use? This quick drafting exercise will help you get into a creative flow and see which pose suits your purpose. This bonus project is optional!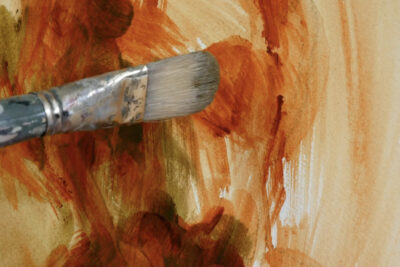 1. Basic layers
You have your reference photo ready to get started! We'll start with creating basic, yet dynamic layers to establish the basic features and feel of the face.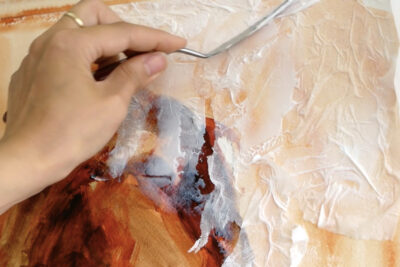 2. Texture
Adding texture to your surface at an early stage gives an extra dimension to your work. Here, I work with paper tissues and acrylic gel medium to create texture in just the areas I need it.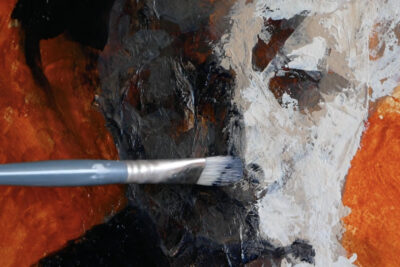 3. Structure
With out limited palette we can create a wide range of values to shape out the features of the face. Even though we go into detail more in this part, we still try to maintain a loose style.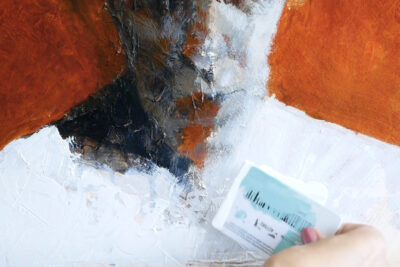 4. Details
After we've painted the basic structure of the face it's time to focus on more details that make our portrait unique. We look at color temperature, composition, hair and the ear.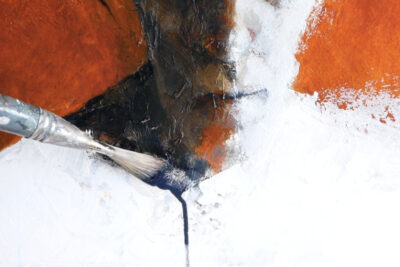 5. Final layers
Time to bring this painting to an end and see what we'd still like to add. I will show you several techniques that you can use such as glazing, paint transfers and drips. 
A self-portrait workshop in acrylic paint
Prices are in Euro's but during checkout you will be able to pay in your own currency. Use the converter below to get an estimation.
Frequently asked questions
I live in the Netherland so all my class prices are shown in Euros (€). When you check out, your payment will automatically be converted to your own currency at the current exchange rate. No extra costs are involved and you don't have to do anything! If you want to check what this course will cost in your own currency, you can get a good estimate with the converter below.