A full portrait workshop in acrylic paint
In this workshop you'll receive...
Sabra's class was definitely one of my favorite. Her unique style and approach inspire you to try new directions in a fearless way. Every step of the demo was very clearly explained and helpful in achieving a beautiful result.
There is something special about Sabra. Her artistry is rich and deep and haunting. Her teaching is centered and thorough and her presentation quite calming. There is simply no one quite like her out there. It is a pleasure to study with her.
Love Sabra's classes. The right amount of information so that you learn and yet have room for your own style. She is so thoughtful and generous!
Sabra has such style, in her art and her demeanor! She offers thoughtful instruction, with details and depth. Highly recommend!
Sabra walks you through every step of the painting from colour mixing to end. Very informative. Recommend her class highly.
Sabra's art is masterful, her teaching style smooth. She goes at an easy pace, explains thoroughly, while expanding your confidence and skills. She creates magic! Thank you, Sabra!
Beautiful course, perfect teacher, great art ...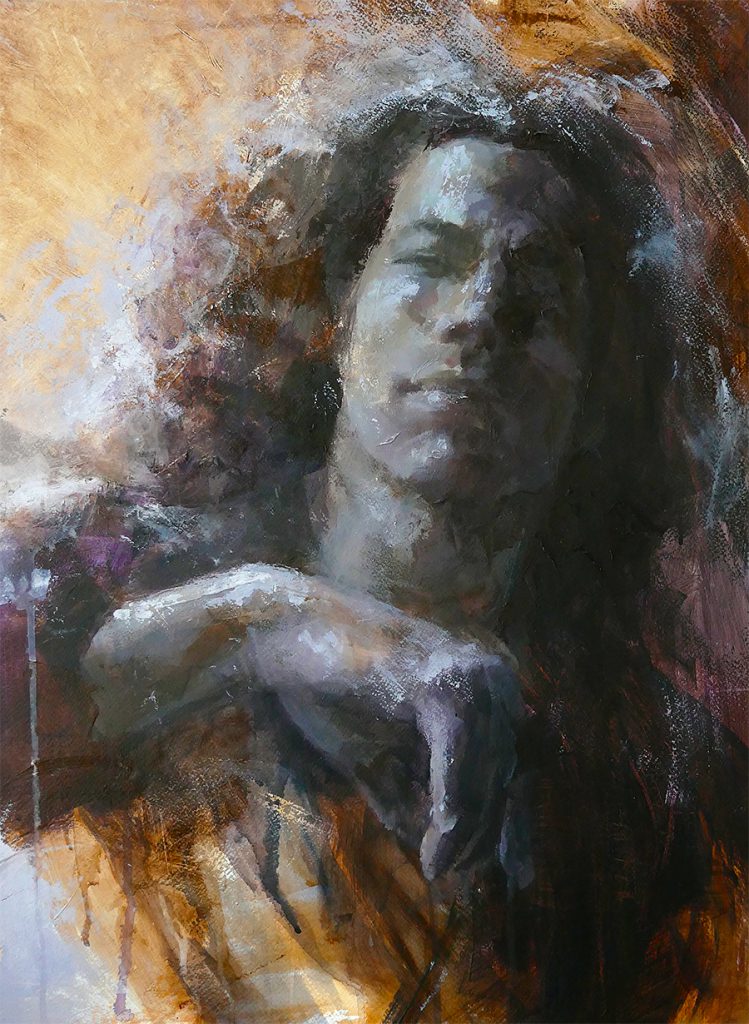 When I started out painting, acrylic paint was such a mystery to me. It would dry before I could even think about my next brush stroke, either on my surface or my palette. I didn't have a clue how to make it work me and it frustrated me terribly!
Many paintings later, acrylic paint has become one of my favorite mediums to work with. It's fast drying time has now become a blessing as it allows me to layer as much I want, without having to wait.
It's that layered texture, built up carefully, that can give you the freedom to add enormous depth and visual interest to your projects. If you're new to acrylics or just want to try some new techniques, without investing in a long-term course, this is an excellent project for you!
In over 1.5 hours of video I will guide you through the steps to mixing an easy palette, starting with big, bold strokes and refining your portrait as you go. This class was also taught by me on Kara Bullock's year-long course Let's Face It in 2019. It was received well and many wonderful projects came from it.
If you'd like to learn more about what this workshop is about, read on!
Much love,
Sabra
What will I take from this class?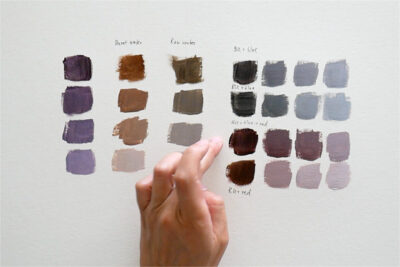 1. Color mixing
We'll start by discussing what colors we're going to use and how. I will explain a little bit about color temperature and how it effects your work. Then I will show you how to mix with these colors to create a beautiful collection of earthy tones.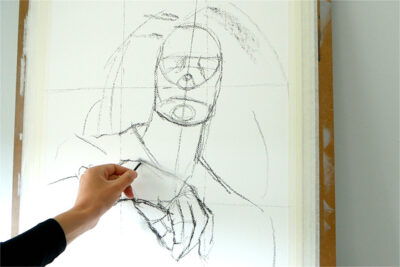 2. Sketching & basic shapes
Sketching can be a little daunting for some, but don't worry. We'll take it step-by-step, using simple guidelines to help us. I will explain to you how to measure and apply. Some special attention is given to the hand!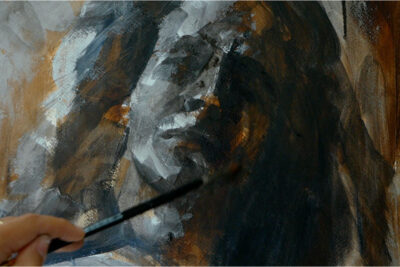 3. Facial features
Working with broad strokes, we'll lay down the foundation for the next parts. Working freely at the start of a project can give you confidence and help you with anxiety. We'll use some alternatives to brushes as well, such as rags to paint with.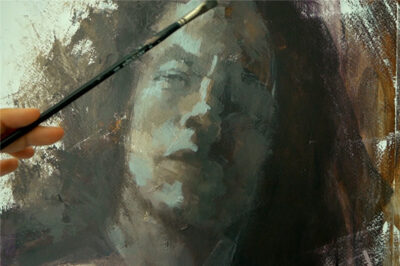 4. Color balance
In this part we'll focus more on getting our colors balanced. Do you want colder highlights and warmer shadows? Or the other way around? And how does the color of your background influence your skin tones?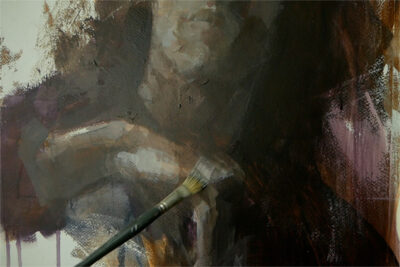 5. Details
It's time to focus on some details and decide where we want them. With our general highlights and shadow already in, we'll work on our mid tones to create a more natural looking portrait. And of course we can't forget the hand! 😉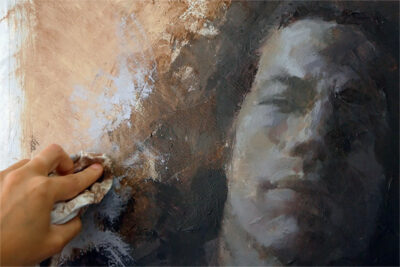 6. Final touches
Time to step back, look and see where we are and what we want to add or change. I'm making some alterations to the overall look and adding some texture with my rags. Then, it's time to sit back and enjoy your efforts!
A full portrait workshop in acrylic paint
Prices are in Euro's but during checkout you will be able to pay in your own currency. Use the converter below to get an estimation.
Frequently asked questions
I live in the Netherland so all my class prices are shown in Euros (€). When you check out, your payment will automatically be converted to your own currency at the current exchange rate. No extra costs are involved and you don't have to do anything! If you want to check what this course will cost in your own currency, you can get a good estimate with the converter below.